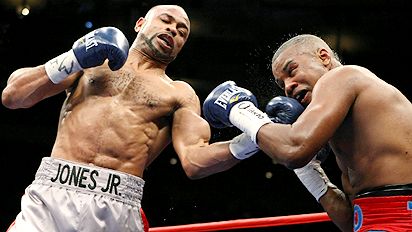 Boxing:
Roy Jones, Felix Trinidad went at this two days ago for a 12 round fight which Roy won the fight by unanimous decision. He managed to knock Flexi down twice, in the 7th round and the 10th, both of the knock downs both of them could have been avoided.Flex got hit in the head with a short punch and after literally 5 seconds he decided to fall on the ground. The second knock down Felix got his too but he was off balance so that was the main reason he fell.
Anyway, Roy threw out less punches but landed more and after those two knock downs, and with help of unanimous decisions, he won the fight but hats off to Felix too for putting up a great fight after over 3 years of retirement and the fact that he seemed alot more our of shape than Roy.
It made it worth watching and for those of us that paid, they aren't complaining either so I guess old men can fight too!